Matt & Grant Wedding Day Highlight
MATT & GRANT WEDDING DAY
Matt & Grant's wedding day was held at the spectacular venue, Theatre on the Lake, with Chicago's skyline on one side and the beach on the other, the couple's special day was just jaw-dropping beautiful.  Talk about the details of what goes into the wedding! But all of that matters much less than Matt & Grant's love for each other.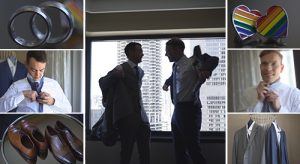 Matt & Grant didn't want to be separated since the morning at the Renaissance Hotel.  They woke up together and started their day getting dressed next to each other.  Forget first look!  Matt and Grant enjoyed sharing every moment together.
After getting ready, the couple ventured around downtown Chicago via Uber and our famous "L" train.  The train was a big
symbolism of their wedding day.  As Christina mentioned in her reading of "The Station," the train represented their journey of love, journey of life, and journey of marriage.  Often times, we want to reach a destination.  However, we must be reminded that a final destination, or train station, doesn't exactly exist as we always have new goals and new stops we want to reach.  We shouldn't be so focused on getting to our 'station', but enjoy every moment together.  This was exactly what Grant and Matt promised in their vows.
As the sun was setting, over 300 guests gathered inside Theatre on the Lake to witness the one of a kind ceremony.  The ceremony was hilarious and intimate at the same time as it was conducted by a close friend of the couple.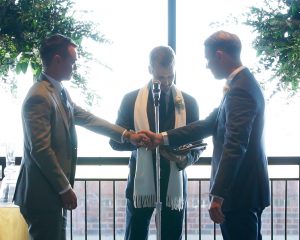 After the ceremony, Matt surprised Grant with a champagne acrobatic server.  Their first drink together as husband and husband was uniquely served by this talented server hung from the chandelier by a piece of fabric.  A special detail I bet they won't ever forget.
The night was very special.  Applauded and admired by their 300+ supportive guests as they shared their many firsts together under breathtaking decoration and sparkling lights put together by the Kehoe Designs Team.
Last but not least, the night was non-stop dancing thanks to the amazing live band performance of the Dan Hayes team.
THE WEDDING DAY
Matt Lind + Grant Hahn
April 28th 2018
Theatre on the Lake
WEDDING PLANNER: Events by Grace
CEREMONY + RECEPTION VENUE: Theatre on the Lake
DÉCOR / FLORAL: Kehoe Designs
CATERER: Blue Plate
BAND: Dan Hayes Band
CHAMPAGNE SERVER: New Moon
VIDEOGRAPHY: Corfias Films